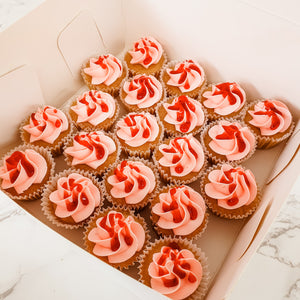 Latest flavour! Strawberry Vanilla Mini Cupcakes. In mini size, with our velvety smooth Strawberry Swiss buttercream and drizzled with strawberry jam. 
This is the perfect combo for any strawberry lover. It's amazing as a gift or to be enjoyed on your own. 
These cupcakes is available everyday, order now and pick up in 2 hours or you can schedule for when you need them for your party.