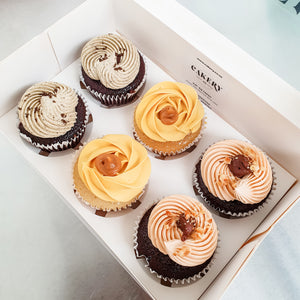 Our Kooky trio cupcakes box come in three flavours, Nutella Hazelnut, Salted Caramel and Cookies & Cream. 
Our Nutella Hazelnut cupcakes gives your that hazelnut flavour from the buttercream with Nutella and sprinkled with freshly roasted hazelnut. 
Try our whipped salted caramel cupcakes that comes with whipped salted caramel buttercream topped with caramel crème. 
If you are an Oreo lover, then try our Cookies and Cream cupcake! It is made with cookies and cream buttercream on our favourite chocolate flavoured cupcake. 
Each box comes with all three flavours for you to enjoy.