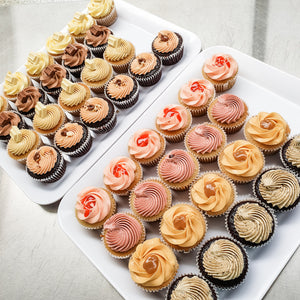 Grab a box of these assorted cupcakes and let us surprise you with new flavours! Each box comes in at least 3-6 types of flavours, depending on how many pieces you buy. 
Perfect as a gift for a love one or just a treat for yourself! 
Our range of flavours: 

Classic Chocolate
Classic Vanilla
Hazelnut 
Cookies and Cream
Salted Caramel
Lemon
Strawberry Vanilla 
Blueberry Vanilla
Mocha 
Latte 
Black Forest
Some flavours may not be available depending on the availability at the store on the day.