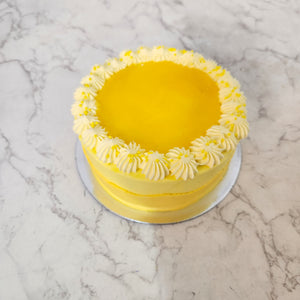 Lemon Cake that is fit for any occasions. It comes in our zesty lemon buttercream flavour, layered between vanilla cake, and a generous serving of lemon curd. The outside of the cake is finished with velvety lemon buttercream. This is one cake you don't want to miss. You won't find a tastier way to celebrate any special occasion. Surprise your guests with this delightfully refreshing spin on traditional cake. It's sure to be a hit!
This item is available for pick up at Botany, if you wish to pick up from our Takanini store, please order it here: https://www.cakery.co.nz/products/lemon-cake-takanini
Or to pre-order in advance (more than 3 days notice) please use our Pre-order link: https://www.cakery.co.nz/products/lemon-cake-pre-order . For Pre-orders, you can choose Takanini or Botany for pick up. You will also have the option to choose a larger size if that's what you're looking for.