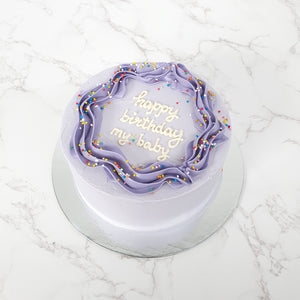 This Swirly cake comes in 2 layer whipped salted caramel flavour, it is perfect for any small family birthday. If you are looking for a simple and beautiful cake, this is the cake for you. 
We can write Happy Birthday plus the name, of other words (not more than 30 characters) on the cake. 
Book yours now before it's sold out, as we have limited units each week due to lockdown restrictions to maintain safety bubbles in the kitchen.