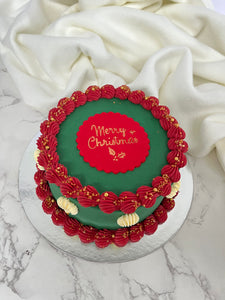 Celebrate this Christmas with our beautiful and delicious custom Chistmas Vintage cake. Perfect for family gatherings as it comes in 4 sizes, 4 inch, 6 inch, 8 inch and 10 inch. Also available in 6 of our most popular flavour. *4 inch size is only available in chocolate / vanilla flavour.*
Indulge in an unforgettable gastronomic experience this Christmas! Crafted from the finest ingredients, our Christmas Vintage cake is sure to be a hit for any celebration.
Cakes all are pre-order, we need 2 days notice, and last day to order is 22nd Dec.