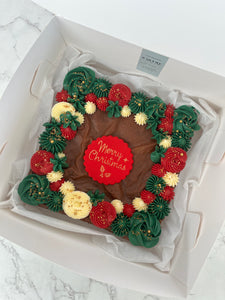 Our very first custom crafted Christmas Brownie Design, perfect for those who love brownies. Celebrate the festivities with something sweet and special. This is also perfect as a gift for your friends and friends.
This Christmas Brownies have 16 servings, baked in our 8inch square pans, in our Original Brownie flavour. 
Brownies all are pre-order, we need 2 days notice, and last day to order this product is 22nd December. 
*Note: this product contains Egg*