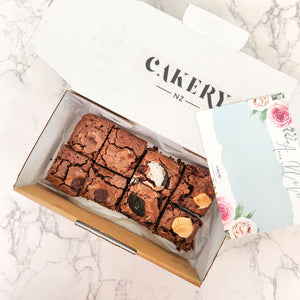 In this Box of Assorted Brownie, you will get 4 slices of Original Brownie, 2 slices of Oreo Brownie and 2 slices of Rocky Road Brownie. Perfect if you want a taster of our most popular flavours. 
Available in 8 slices.
Also comes with a FREE NOTE if you want to send it as a gift. 
The Original Brownie.
Gooey centre, fudgy to the bite and topped with the coveted flaky crunchy bits.
Made with Milk Chocolate to give you the most decadent fudgy brownie. 
The Oreo Brownie.
We love Oreo, and we love brownie. So we decided to have them both in one mouthful. Seriously, the best thing ever! The crunchy bits of Oreo and fudgy brownie all in one bite, it's too good to share!
Rocky Road Brownie
The Original Brownie Meets Marshmallows. This is the perfect marriage for our fudgy Original Brownie topped with fluffy marshmallows. You will be in brownie heaven when you get a taste of this.